Our Physiotherapists
All our Physiotherapists are registered members of the Chartered Society of Physiotherapy and the Health and Care Professions Council.  Collectively they have over 70 years of experience treating a broad range of musculoskeletal conditions.  They work closely together alongside our wider therapy team to ensure our clients get the best care and outcomes by using their combined knowledge and skill sets.
Pete Tang - Director and Chartered Physiotherapist
Pete qualified from Keele University in 1999 with First class honors in Physiotherapy. His career began working for the North Bristol NHS Trust where he specialized in the treatment of orthopaedic and musculoskeletal injuries. In late 2001 he took up a post at the BUPA Hospital Bristol where he was employed as a Senior Physiotherapist, later progressing to Physio Team Leader and ultimately Physiotherapy Manager.
In June 2004 Pete began working as a Private Physiotherapist. He worked in a variety of settings including continued work for BUPA Hospitals (now Spire Hospital Bristol), The Jonathan Webb Clinic and other Private Clinics. In 2007 Pete established The Physio Clinic Bristol at Riverside Leisure Club.  His success as a Private Therapist had given him the confidence to think bigger and take his treatment principles to a bigger audience.  His goal is to provide a team of therapists to provide expert assessment, treatment and rehabilitation to the local  community and to meet the ever increasing demand for fast access, high quality Physiotherapy.
The Physio Clinic Bristol is now a multi practitioner Physiotherapy and Sports Performance practice including Physiotherapists, Sports Massage Therapists, Strength and Conditioning Coaches and Sports Therapists.  Pete continues to have a clinical case load specialising in Lower Limb disorders (especially running related problems), Shoulder problems and Lower Back Pain.  He retains close working relationships with prominent orthopaedic consultants and local GP's.
In addition to his clinical case load he is mentoring and training the team, building the range and quality of services that the clinic provides, as well as running the practice to build on its reputation and success as the Clinic of choice for assessment, diagnosis and treatment.
Outside of work Pete enjoys keeping fit through cycling and running having completed several Sportives on the bike and his biggest successes to date are, the Bristol Half Marathon and Newport Marathon.  When he's not cycling or running he is either watching his daughter play football, walking his dog or shooting arrows at the local archery club.
Anh Waite BSc Chartered Physiotherapist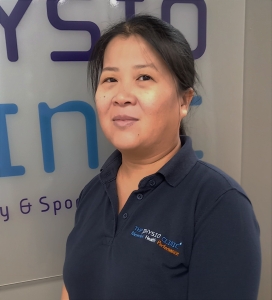 Anh qualified in 2000 as a Physiotherapist and has worked in a variety of settings including the NHS, industry and Private Practice.  She has worked internationally having lived in Dubai for the last 5 years.   She has a vast amount of experience in sport.  She is a qualified pitchside specialist Physiotherapist and has worked for several teams including the UAE girls under 18 rugby 7's team and  physio for Sydney based rugby 7's team who won their division in the Dubai Rugby 7's tournament.
Anh is a qualified acupuncturist in addition to her more traditional hands on treatment techniques and exercise prescription.
When shes not at work Anh likes spending time with here family and enjoys cycling and keeping fit.  She hase even done a few 5 k races and more recently got into lifting weights.
David Lee BSc Chartered Physiotherapist
David qualified as a physiotherapist from Cardiff University in 2009. He has a second bachelors degree in sport science. David's full time physiotherapy career developed in the NHS where he completed junior and senior rotations before specialising in musculoskeletal disorders. His NHS experience includes head of student MSK placements at Llandough hospital, and occupational health clinic. Alongside his NHS experience David worked part time in both sport and private clinics. He has worked as an academy physiotherapist for Cardiff City FC and South Wales Scorpions Rugby League team.
In recent years David has been working in South East Asia for UFIT –  the biggest health and fitness company in Singapore. As well as seeing patients, David has been head of the junior mentoring program, manager of one of the health clinics, and providing multiple in-person and online presentations to corporate companies pre and post COVID.
Believing that health is a complete state of physical and psychological well-being combining fitness, mindset, sleep and diet, David has been an avid athlete throughout his life. Starting out in football, he went on to complete multiple half marathons, the London Marathon and several cycling sportives. In recent years this has led to a natural transition into triathlon, qualifying for 2020 New Zealand 70.3 Ironman World Championships. David is currently training for Ironman Wales 2022.
Due to his diverse personal and professional background, David is happy treating multiple pathologies and clients of all abilities looking to return to everyday activities and/or exercise and active hobbies. He has a passion for treating lower limb injuries and post operative clients. While in Singapore he has been part of the UFIT endurance team coaching athletes at a running bootcamp, as well as providing running assessment/gait analysis.
In addition to David's sports science and physiotherapy degrees, David also holds qualifications in sports massage, strength and conditioning, Pilates, dry needling and bike fitting.
Jenny Buckley MSc Chartered Physiotherapist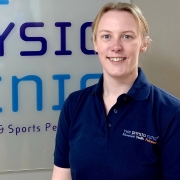 Jenny completed a BSc Sports Conditioning and Coaching degree before moving to Birmingham to complete an MSc (pre-registration) Physiotherapy degree.  Since then, she has returned to her home city of Bristol, where she worked within the NHS, before moving into private healthcare, to combine her passion for sport with her physiotherapy knowledge.
In addition to her physiotherapy qualification, Jenny is a qualified Pilates Instructor and Sports Massage Therapist.
Her own sporting experience as a national level badminton player as a teenager, and more recently a triathlete competing at Age Group European and World Championships, leaves her perfectly placed to understand the importance of looking at the body as a whole, treating with a holistic approach that combines hands on therapy with exercise.
When not working in clinic as a therapist, Jenny continues to support the clinic as our reception manager.
Dave Mercy BSc Chartered Physiotherapist
David qualified from Bath School of Physiotherapy in 1990 and has over 25 years of clinical experience. The last 20 years have been dedicated to the treatment of Musculo-Skeletal disorders such as spinal pain, sports injuries and orthopaedic medicine. His post graduate training includes Clinical Pilates, Orthopaedic medicine and spinal manipulation and the study of movement and Kinetic Control Theory.
Now working for the clinic in an occupational health capacity, David is no longer based at our main clinic, but instead at a local engineering company, in addition to travelling to various office and workplaces around Bristol to carry out ergonomic office assessments.
Prior to returning to the West Country, David has travelled the UK and around the world, working as far away as the Australian outback and closer to home in Harley Street in London. He has taken charge of an NHS Physiotherapy department and been a Clinical Educator to Physiotherapy students at local Universities.
When not at work he is back on his bike and also clocking up the running miles with one eye on the Bristol half marathon and his PB. He also has a fine collection of chilli plants thanks to the West Country sun and air.
Our Sports & Massage Therapists
Sports & Massage therapists combine a range of skill sets including deep tissue massage, strengthening exercises, stretches and other hands on techniques to improve the health and wellbeing of an individual.  Our therapists work closely alongside the Physiotherapy team to provide additional support to a clients rehabilitation and long term recovery.
Dan Kerton BSc Sports Conditioning, Rehab and Massage
Dan graduated with a 2:1 honours degree in sports conditioning, rehabilitation and massage from Cardiff metropolitan university in 2019. He has worked with various sports teams during this process with the most recent being part of Cardiff metropolitan men's football team helping with their europa league preparations.
Dan recently completed a level 5 itec Sports Massage Qualification in order to improve himself as a sports massage therapist and to broaden his experience and use an evidence based approach in his clinical practice.  These skills enable him to choose specific treatments for the clients needs rather than just a generic one size fits all massage. He is able to  combine as myofascial release, PNF stretching and complex trigger point release techniques to help with specific needs as well as the use of sports massage in order to aid the rehabilitation for certain injuries.
Dan also currently head up the clinics events work. Where we work with triathletes and runners. This has allowed him to work further with some of the individuals who take part in these events to allow them to recover better but also improve their movement to try to reduce those little niggles that affect their performance.
Outside of the clinic he plays football locally, is a regular runner as well as having a keen interest in strength training.
Isabel Dickson BSc Sports Conditioning, Level 5 Sports Massage Therapist
Isabel graduated with a degree in sports conditioning, rehabilitation and massage from Cardiff Metropolitan University. As part of her degree she gained a Level 5 ITEC qualification in sports massage, learning a range of different techniques and to further develop her skills.
Whilst studying, Isabel worked with the Cardiff Met athletics team helping to keep the athletes training hard and performing at various different levels, including elite athletes.
Isabel is a strong believer in the benefits strength and conditioning can have on injury prevention and rehabilitation. A keen runner herself, who also used to play a lot of tennis and competed regularly has direct experience of this, and continues to use her experience to enjoy functional fitness and getting outdoors.
Our Coaches and Instructors
The clinic works alongside several specialist instructors and coaches including Strength and Conditioning coaches, Triathlon coaches and Pilates instructors.
Matt Williams S&C Coach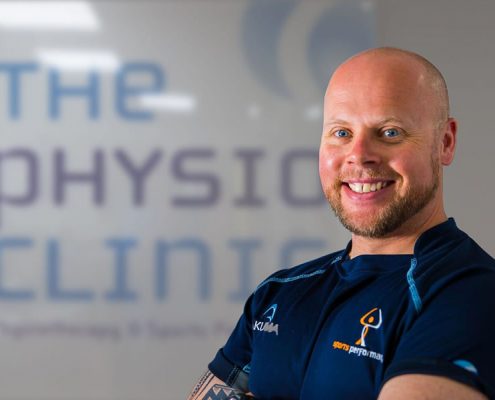 Matt has worked in the health & fitness industry for since the age of 16, gaining a vast amount of knowledge and experience. As a keen sportsman himself, he has played various sports from Rugby & Ice Hockey through to Badminton and Gymnastics with several at County standard.
During his career Matt has worked for the NHS as a Technical Rehabilitation Instructor assisting in the delivery of rehabilitation to a wide range of patients following orthopaedic surgery. At the higher level, he has worked with Bristol Rugby as a Sports  Therapist and also Bristol University working with their elite athlete programs. His background gives him a fantastic knowledge and understanding of athletes and what they need to perform but also knowledge of injury, rehabilitation and work within a multidisciplinary team.
Matt joined in the clinic in 2010 to further develop and enhance the clinics rehabilitation program and range of services available to sports people looking to achieve more and perform to top standards. His range of expertise includes Strength & Conditioning Coaching, Compex (Neuro-muscular Electrical Stimulation), Movement Trainer, Sports Specific Speed, Agility and Power workouts and exercises management for low back pain sufferers.
Matt is keen on professional development and is always attending courses and workshops to further his knowledge and build on his skills set.
If you are looking to improve your lifting technique or structured programming, then contact Matt.
John Wood - Run/Swim/Triathlon Coach
John has been working with The Physio Clinic Bristol as a Run/Swim/Triathlon Coach since 2012.  His swim coaching career started 15 years ago and 5 years ago he added Triathlon & running coaching to his skill set.  Having competed at International level in swimming and triathlon John understands the importance of good coaching and the impact it can have on performance. Over the years he has had great results with his clients- from those learning to swim, improving their technique through to outdoor lake/sea events.
He has worked with clubs, groups and individuals of all standards and has extremely good communication skills to get his teaching points across.
"I enjoy teaching people to swim for rehab and overcoming fear of the water, all the way up to fine tuning strokes to swimming quicker"
In addition to his swim coaching he also coaches running technique and supports local triathlon clubs coaching track sessions.  As an International level triathlon John also uses his experience to help structure training plans for multi event competitions.
For more information or to request a call back from John contact the main clinic and let us know what help you are looking for.
Katie James MSc Reformer Pilates Instructor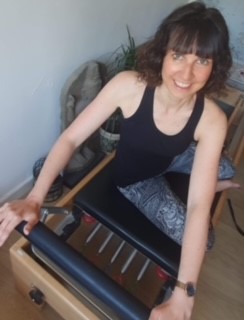 Katie qualified as a Physiotherapist in 2000 and has since enjoyed seeing the benefits of movement rehabilitation on clients in many different settings.
She fell in love with Pilates when she lived in Hong Kong and completed her mat work and equipment training with Polestar Pilates, going on to work with rehabilitation and fitness clients.
On returning to London, Katie furthered her Pilates training with APPI (The Australian Physiotherapy and Pilates Institute) and went on to become a teacher trainer with them.
Katie has continued to see the positive effects of Pilates on people's movement, strength, posture and ultimately quality of life. She thrives on introducing new clients to the joy of Pilates and also exploring variations of exercises to challenge existing Pilates enthusiasts. She has experience in teaching the pregnant and postnatal population and very much enjoys seeing how Pilates can benefit women during this special time.
Although her adventures as an expat have taken her to Asia and the Middle East Katie has always found Pilates to be accessible to anyone and everyone.
Now settled back in her native Bristol Katie looks forward to drawing on all her experiences to help you achieve your goals using the invaluable method of Pilates.
Outside of Pilates Katie is kept happily busy with her two young daughters and enjoy singing in a local choir.
Miriam Roberts Pilates Instructor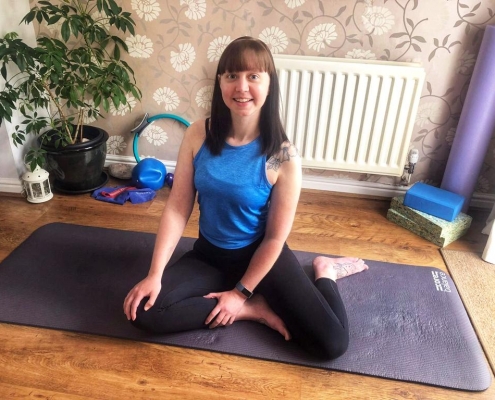 Mim found her passion for movement after studying creative writing and performing arts and moved to Bristol following University. In 2016 she completed her Level 3 Mat Based Pilates Certification with Future Fit.
Following her initial qualification, Mim acquired further qualifications in –
-Pilates with Small Equipment
-Pilates for Neurological Conditions
-Pilates for Older Adults
-Pilates for Pre and Post Natal Clients
And she is now studying towards a Level 4 Mat Qualification with Body Control Pilates.
Miriam gained a lot of experience and skills working alongside Physiotherapists and Occupational Therapists in her previous role as a Neuro Trauma Therapy Assistant at the RUH in Bath. That role involved rehabilitating people with different neurological conditions such as MS, Parkinson's, brain injury and spinal injury. Her time in this role helped Mim to expand her knowledge and teaching, integrating the Pilates principles within rehabilitation.
"I believe everyone should feel confident to move and to find the movement that makes them feel good!"
In her own time she enjoys music, reading, running and walking. "I love to spend time outside and to be with friends, family and my cat, Sprite!"
Our Administration Team
Our administration team are a vital part of the clinic.  They are always on hand to help clients with any queeries or questions and to put them at ease.
Jenny Ritchie - Reception Manager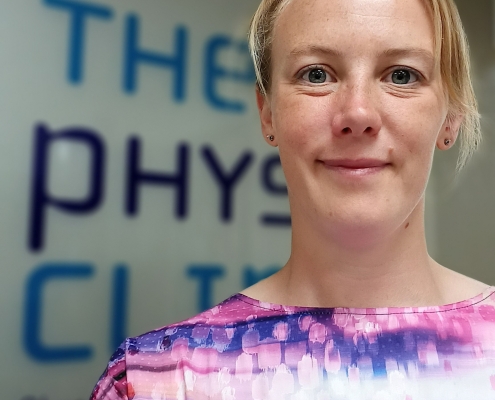 Jenny joined the team in April 2021 to support the growing team of therapists and services, assisting with the ever increasing administration associated with a busy practice.  Jenny decided to focus her career on business development having worked as a private physiotherapist and sports massage therapist for 10 years.  However, when not on reception, she does keep up her clinical practice as a Therapist and Pilates Instructor, and can be found covering Pilates classes, as well as offering some physiotherapy appiontments.  As a result, Jenny has a great understanding of the conditions we treat and the services we offer, as well as the complexities of running a busy clinic.  If you have any questions about the services we offer, Jenny and our team are here to answer them.
Liz Parker - Reception Administrator
Liz has  been married for over 30 years  and is also a mother and grandmother.
Before Liz started work here at the Physio Clinic in January 2019,   Liz worked at Natwest Bank for 21 years.
Her role  at The Physio Clinic is reception/admin front of house. Liz  love working with our clients in a customer facing role and  giving  first class service.  She work opposite shift patterns to Sarah.
"The staff here are like a big family, they welcomed myself on board and have taught/shown me the different job roles the staff here undertake, as Physiotherapy, Sports Massages, Strength & Conditioning , Pilates , and more…"
Grace - Receptionist
Grace joined the team in March 2021, working a couple days a week whilst studying for her A-levels.
Katie - Receptionist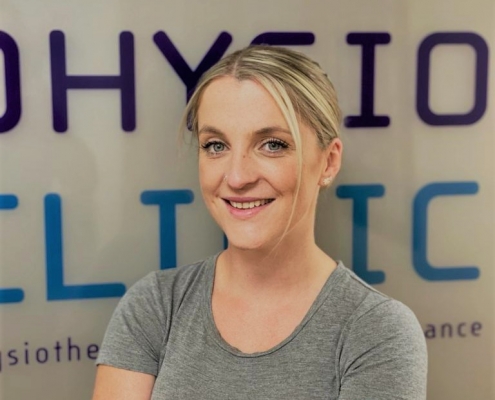 Katie started with our administration team in March 2021, working twice per week on reception.  She has a several years experience of working with the Riverside Leisure Centre, as well as over 20 years experience working as a fitness instructor, specialising in gymnastics.  Any questions relating to gym membership to enhance and support your rehabilitation, Katie can help.
Lydia - Receptionist
Lydia works as a part time releif receptionsist, covering during staff leave.  She has recently finished her A Levels and is looking forward to studying Geography at University starting September 2021.