Despite what people think even us physios get injured and suffer with aches and pains. I've had my share over the years and typically it's 'Physio heal thy self'. That's usually the case. Our knowledge and expertise certainly help but we also need the hands on assessment and treatment from colleagues too. A big thank you to all my team for you help and support.
I'll try and keep the background brief. I've had issues with my Right knee as far back as 1999 when I ruptured my ACL. I eventually had that reconstructed in 2002 at Southmead Hospital and had a successful rehab and recovery. I've generally kept active most of my life, gym memberships, hill walking, mountain biking and even coaching junior rugby for a spell. More recently it's road cycling and running in the last 4 and a half years. My knee has held up very well on the whole.
My knee started playing up about 4 months after I took up running. It's fair to say running was my forte but it's something I'd started and had managed to stick with (you can read about that here). Many people worry that running will damage your knees and joints but research now tells us this is not the case. My knees just needed more time to adapt to the increased load and stress I was placing on them. After a few more weeks the legs were stronger, I'd lost a few pounds and the knee pain had gone.
Fast forward over 3 years, numerous running and cycling events later, including 1 full marathon, and all was going well until….. Summer 2019 I twisted the knee awkwardly causing some pain and swelling. An MRI at the time identified a possible tear on the medial meniscus but nothing to suggest surgery at that time. 3 months of rehab, strength work, cycling and a return to running by November, enough time to train for the London Vitality Big Half marathon I had booked for March 2020.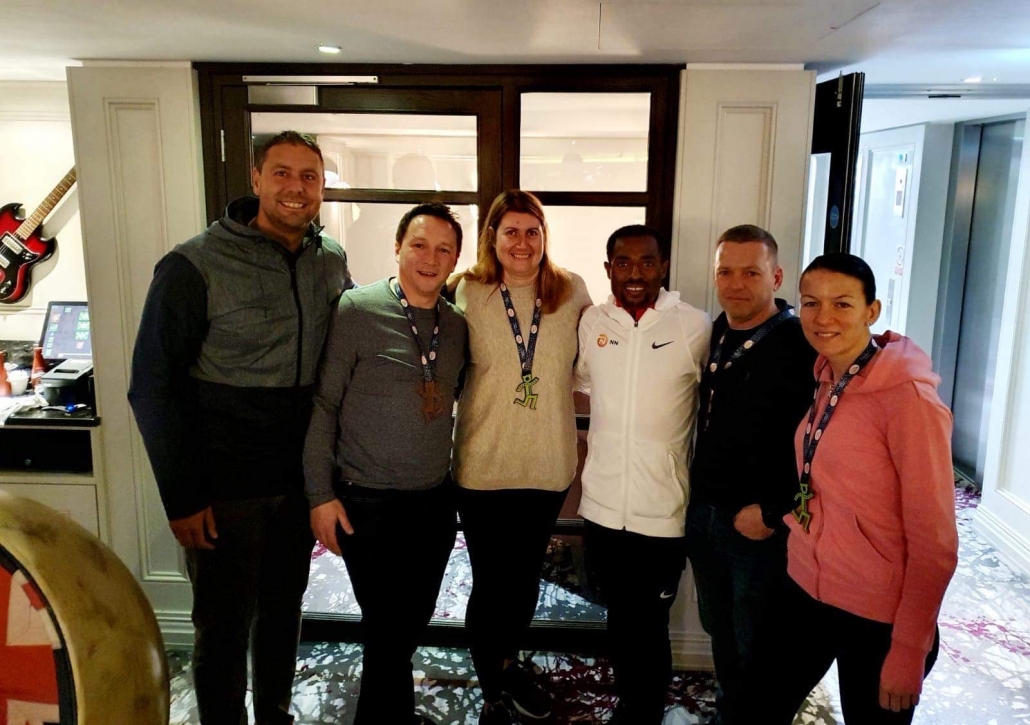 So half marathon in the bag then lockdown hit. The knee was all good and training increased during lockdown, when we could get out more. I'd even started trail running along the Cotswold way. It was actually when I returned back to work that problems reoccurred. I was demonstrating how NOT TO do an exercise to a patient 🤦🏻‍♂️ that I tweaked the knee again. Stupid I know! Things were worse and a repeat MRI confirmed a definite tear in both meniscus. We'd only just returned to work after lockdown and taking time off just wasn't an option so I delayed having surgery straight away. I went back to the rehab and strength work. Compex was a huge help and the team sorted me out with some much needed hands on treatment to release my tight quads and hamstrings. Cycling was the one thing that actually caused me more problems, so my cycling goals for the year went out of the window. Running was actually ok…. to a point. By managing the load and frequency sensibly I was able to keep going. Eventually I could tell things were not behaving themselves. I could tell I was limping more when walking. Bending past 90 degrees was a struggle. My running metrics were also showing an imbalance between my Left and Right Ground Contact Time Balance, although my times were still good. I was getting more discomfort, episodes of sharp pain and giving way. The final straw was I could tell I was compensating and was now getting aches in other places, my right hip and left calf. It was time to get things sorted. I couldn't keep going on despite trying to convince myself otherwise.
I'm certainly glad to be covered by Tracy's medical insurance plan. That has enabled me to get help quickly and in a timely manner. I'm so grateful, but I'm aware not everyone is as fortunate. My NHS counterparts are working through a global pandemic in some of the worst conditions the NHS has faced. Services are severely restricted and face to face contacts limited. I'm certainly hoping my recovery will be quick and efficient so I can be back at work helping my clients again.
https://www.thephysioclinicbristol.co.uk/wp-content/uploads/2020/11/knee-pain-pic-scaled.jpg
1707
2560
Pete Tang
https://www.thephysioclinicbristol.co.uk/wp-content/uploads/2018/04/New-Physio-Clinic-Logo-test-1030x230.jpg
Pete Tang
2020-11-07 11:30:29
2020-11-07 13:45:35
Pete's knee blog Nov 20 – The Background