Pilates is a combination of exercises consisting of strength, mobility and stretching. The main theme of Pilates is maintaining a central core of stability during movement, with focus on breathing and body awareness.
We offer:
1:1 Reformer/Matwork sessions for rehabilitation, fitness and general welbeing
Group Matwork Pilates classes
1:1 Antenatal Reformer / Matwork sessions
Who is Pilates for?
Pilates has something to offer everyone, regardless of age, levels of ability or fitness. It is particularly good for people suffering with low back pain.  From beginners to elite athletes, if you're looking to improve your strength, posture, fitness or simply want a class that helps you feel revived and refreshed; then Pilates is for you.
How can Pilates help me?
How can Pilates help me?
Increases flexibility
Improves posture
Reduce back pain
Develop muscular control
Increases circulation
Relieves tension
Promotes relaxation
Reduces the risk of injury
Improves functional fitness for everyday life
Reformer Pilates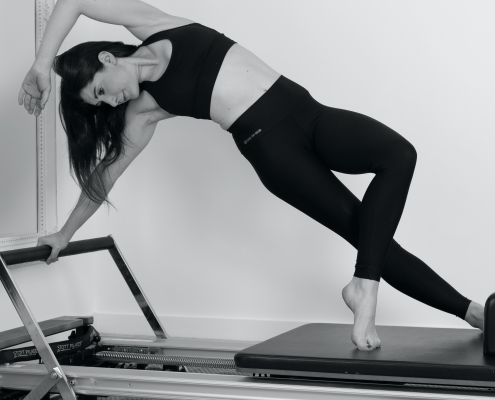 Pilates began with the use of springs on hospital beds to rehabilitate injured service personnel in the second world war.
The Pilates Reformer is a piece of equipment that takes these initial Pilates concepts and transforms each exercise by using pullies and springs to increase resistance or support your limbs during Pilates movements.
Watch our video here for an example of some of the exercises.
Antenatal Pilates
Our 1:1 Antenatal Pilates sessions focus on your personal requirements at each stage of your pregnancy, be it combating back pain, working to maintain baseline strength, or purely for your overall fitness and welbeing.  Sessions include Matwork and/or Reformer Pilates, depending on your specific requirements.
1:1 or 2:1 Pilates Sessions
Many people prefer the bespoke nature of 1:1 sessions or even 2:1 rather than a group environment.
1:1 sessions will be more tailored to your needs.  They offer a greater choice of exercises including Reformer Pilates as well as Matwork.  Alternatively, why not workout with a friend or partner and share the costs with our 2:1 sessions.
Click here to view our current fees and discount packages
Group Matwork Pilates Classes
How do our Classes run?
Each class is ~45-55 minutes long, broken up into a warm up, main exercises and a cool down. Class sizes are small (6 max per class) to ensure your instructor can give you the attention you need.  Correct technique and feedback is key to ensure you get the best experience and results.
Small equipment such as Hoops, Balls, Bands and Foam Rollers are incorporated into the classes to either aid or challenge you during the class.
Why chose us?
Your class will be led by fully trained Pilates instructors.
They have extensive knowledge of how the body works and are able to modify exercises to best suit your ability and fitness levels. This ensures your exercise will be safe and effective for you.
Classes take place in the comfort of our Pilates and Rehabilitation gym.
When do our classes run?
Do I have to buy a package?
No. You may choose to pay as you go however it is cheaper and more cost effective to buy a package of classes.
Unlike some providers, sessions do not need to run on consecutive weeks.  We would however recommend regular attendance to get the most out of Pilates.
D0 I need to book in advance?
Advanced booking is recommended as numbers are limited
You can book and manage your classes online via our website
For same day bookings we recommend you call prior to attending
If you would like further information about Pilates, please call The Physio Clinic on 01454 540066