All payment fees should be made on the day unless claiming under private medical insurance. Payments by Card, Cash or Cheque  are accepted.  For cash back plans please note we require payment on the day and a receipt will be issues to enable you to process your claim. Prices correct as of January 2019.
Massage Fees
Sports Massage First appointment 60′ £40
Sports massage 45′  £40
Sports massage plus (extended massage or massage plus rehab) 90′  £70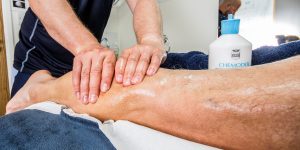 Plans & Package Fees
Benefit from huge savings by purchasing one of our discount packages.
6 Session Package – £210
13 Session Package – £420
Accelerated Rehab Monthly plan* – £300 for 3 months
1 x Physiotherapy session a month
2 x Gym Rehab sessions a month
1 x Sports Massage session a month
*Accelerated Rehab Plan is for a minimum of three months. Payment by monthy standing order of £100 or full amount in advance only to qualify for this huge saving. Contact the clinic for full terms.
Strength & Conditioning Fees
3 Months/Blocks Strength & Conditioning Prorgramming £150
S&C Coaching session*- 60 mins – £30
Block of 5 S&C Coaching sessions* £150
Lifting Technique Session – 60 mins – £40
Compex Recovery session – 60 min – £10 plus inital pads purchase
Compex Monthly rental £30 plus inital pads purchase
*S&C coaching sessions only available to clients on 3 month plan
Pilates Fees
Pilates starter course* – 3 x 1-2-1 sessions 45min each –  £60
1-2-1 Clinical Pilates – 45-55 min – £35
Clinical Pilates Group class – 6 sessions – £54
*Pilates starter course promotion price only available once per client.
Class attendees must have completed the starter course
Class bookings must be paid in advanced but can be used anytime during a 12 month pereiod
Running Clinic Fees
Running Assessment – Video analysis and Movement assessment – 60 min – £55
Running Retraining Session – 30-45 min – £40
Running Retraining Package (Assessment plus 5 retraining sessions) £210